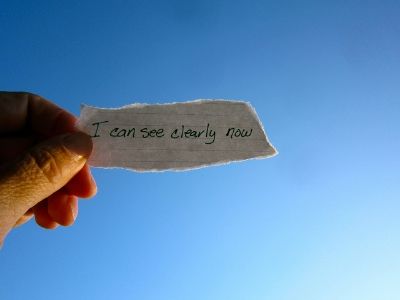 The view from my kitchen window is a study in shadows. The silhouettes of bare trees, scraping their lacy branches against a midnight-blue sky, eclipse the white farmhouse next door. "Would you close those curtains?" he snaps from behind, in an impatient way.  I ignore him, absorbed by the silence of the afternoon's final curtsey and the slippery warmth of the dishwater that bathes my hands. "Close those curtains?" he loudly demands. Does he think I'm hearing impaired?
I inform him that I enjoy looking out of the window at dusk. He obviously chooses to believe I've totally lost it and mutters, "It's pitch black out there…" under his breath. This fuels his escape from the kitchen and the loony woman he's quit trying to understand. I feel relief as his footsteps get smaller and farther away. Listening to him talk jangles my nerves as if I'm chewing on tin foil.
We are so different. I see the beauty and the mystery in the moments just before the earth turns its back on the sun. He sees what's practical and obvious. It's dark. It's cold. Close the curtains. I want to embrace the unknown of twilight; he wants to shut it out. Unfortunately, he's become like that with most people too. I'm curious and warm while he's methodical and unwelcoming. I'm boisterous, he's complacent. I embrace life and am willing to take chances and he's intimidated by its unpredictability. I'm over it.
I follow him to the bedroom where he enjoys isolating with his favorite cop-lawyer-espionage-crime-dramas for hours on end. (I find it amazing that there are so many of them.) Anyway, he is pissy because I didn't close the curtains after his two commands to do so and what had been a petty thing has now taken on a life of its own and transformed him into The Hall Monitor. He actually believes that if I did everything he said, even something as small as closing the curtains when he's ready for them to be closed, his life would be perfect. I am trying to introduce a new topic but he won't have it, and like a hunting dog that's treed a fox, baying at it endlessly, he thinks he has me where he wants me. But he couldn't be more wrong. 'Walk away before you do something you'll regret, like answer him!' I say to myself.
Grabbing my pillows, I retreat to the living room without saying a word, leaving the squealing tires and gunshots in my wake along with the noise blasting from the TV. After 10 or 15 minutes into a  Friends re-run, which happens to be hysterical, I feel my stomach begin to unknot. But I can still feel his rage seeping through the wall like a malevolent vapor and not 15 seconds later he slams into the living room and stands, arms crossed, between the one-liners and me, with an expression that either says "I am really pissed" or "I need my Mommy!" I'm not sure which. And I don't know what's enraged him more; the fact that I was laughing or that he wasn't, but he's about to tell me, of that I'm sure.
"How can you laugh at a time like this? We were having a serious discussion!" he pouts in my direction.
"Because," I pronounce. "Right now it's the only thing keeping me from going after you with an ax!" I stretch my hands out towards him, tipping them back and forth like the scales of Justice. "Laughter…ax. Ax… laughter. You weigh the options!" He does and then he quickly leaves the room.
And it's at this very moment, that I see what polar opposites we've become and how far apart we've drifted. I want to laugh. He wants to chop our happiness to bits. I thought love would be enough to see us through, because it had in the past, but tonight, all I know is that I've been just as blind as Lady Justice. But I can see clearly now and I know the scales will never again be tipping in our favor. And just like that, I don't feel much like laughing.