Well, Holy crap on a cracker.
I have had a hard few days. First off, I'm still mad at Wilbur. I was already mad at him about his messes and general disregard and then he snapped at me the other night. It reminded me of how often he snapped at me before. Now I only get it occasionally. When I start going off about how much I love him and get all weepy I need people to remind me of his messes, sexual ineptitude and snappiness.
So I can dry that nonsense right up.
I'll suck it back in.
I had the kids over the weekend which was good. Except for I started feeling bad again. I have another sinus infection, which makes you feel like you have taken up residence in the sandpits of hell plus Snot. The Boy neglected to turn some homework in and got his first C. They go to a magnet school where he cannot get a C (well, they can get one I hope). He has always known this. He has always known if he gets a C he is in trouble. So, now he is in trouble, no computer privileges and he is bored. Bored bored bored. He has sat with me and talked and talked and talked (he is very unwilbur like) until my ears feel like they may drop off. Not good since my head has felt it might explode on it's own accord. He has paced and paced. I suggested he take up knitting.
Then my laptop died.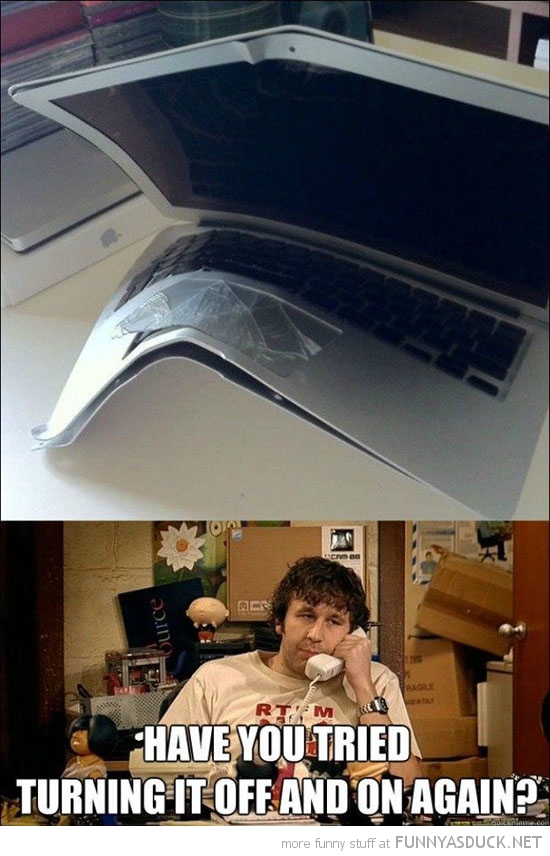 It was the charger thingy. Of course. It wouldn't charge when I put the cord in the hole. I knew it was bad news so I girded my loins (to protect myself from the raping I was about to get) and headed to Best Buy. I expected nothing. Because that is all that ever happens there. They get my money and I get nothing but a headache and a laptop that breaks exactly one day after my warranty expires.
"We're sorry, Ma'am, but it needs a new charger piece and that only comes as part of the side of the laptop and so you will need an entirely new motherboard. We can send it out and it may take 2 weeks and will be between $200 – 400."
"Of course it will."
So, off I go to look at cheap on sale laptops. I do all my clinical notes at home on my laptop. My entire lively hood is in my laptop. I end up with one that is $339 but somehow it cost me $520 when I left because I got the 2 year warranty because the 1 year warranty I got last year wasn't enough. I hate them. I hate those Geeks. I was sick about the money. Sick. Because it is tight all up in here and I was hoping to use it for kid vacation tickets. So, I get the laptop and then the wireless died in the house.
How is a girl to work and blog without wireless for her new $520 fucking laptop?
So, I've been dealing with all sorts of little crap. Nothing terrible, but it adds up to a little sand in the bikini bottom action.
You know, there is some chafing.
Oh, and my cleaner told me this morning that her son is dating his cousin. Who is no account and she is afraid they are going to have 'retarded babies'. That isn't happening to me so that is good. Although I did help her call upon Jesus to rid her house of evil.
I told her that on the bright side dating your cousin isn't even illegal here.
There are some good things happening too. My lovah is coming on Friday. He is going to color my eggs and hippity hoppety around. He says he will sing Peter Cottontail and shake his tail. Can't wait for that.
Could work. Of course my kids might never recover.
Oh, they'll be okay.
Hippity Hoppity.