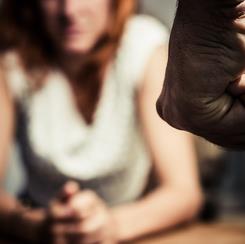 Leaving a union due to domestic abuse is very difficult. It can take victims years to face the truth about their marriage, their partner and the reality that abusers rarely change.
Abusers don't make it any easier, either. Like a spider controlling his web, an abuser has his victim tucked in a nice spot where he can drain her as he needs. He doesn't want to loose his source of narcissist supply and that puts her safety at risk.
Victims have wounds, financial struggles, society's judgment and employment issues to face as they and the kids head out the door to a world filled with obstacles that will challenge their daily survival.
But once out, many victims feel a giant sense of relief that they have escaped the powerful hold of an abuser. It's a good feeling, I know. A very good feeling.
Unfortunately, if a survivor has children with their abuser, they are about to enter crazy land again _ a world where family court doesn't match up with criminal court and co-parenting is the norm. Co-parenting throws survivors and abusers back together in a pseudo-marriage from hell.
Despite many state laws that acknowledge domestic abuse as an important factor in sorting out custody arrangements, in practice, many courts ignore it and insist on co-parenting as the standard.
Co-parenting is the court-ordered cooperation of parents to manage the daily lives of their children together, despite divorce. It's purpose is to force parents to always put first the best interest of the children and move past the reasons that drove their split.
Unfortunately, when you are co-parenting with an abuser, you know more than most that your abuser will never be good at this because he isn't capable. Expecting him to put anyone's interests before his own is like expecting him to magically turn _ say purple _ before your eyes.
Studies abound that show domestic abusers use co-parenting rules to grab back the power and control of their victims they lost through divorce. Through this well-meaning legal principle, abusers can have free access to wind their victims right back into their narcissistic web.
Co-parenting with your abuser can be traumatizing, can trigger Post Traumatic Stress Disorder, and can be dangerous as you stand once again in shock that a person would choose to abuse and then be allowed to get away with it, this time using innocent children. I don't know a mother who would be able to stand by and watch that happen calmly and not react dramatically.
Your feelings can be used against you
But, that is exactly what many courts want you to do. Your honest and legitimate reactions to such abuse in many cases can be used against you in family court, used to show that you are in fact uncooperative with your abusive ex, used to show that you are "alienating" your abuser from the children's lives and not likely to be a good co-parent. And if the court sees you this way, you may very well loose custody. It happens around this country all the time.
Many a mother have lost custody of their kids because they dared to question and complain about their abusive ex, the court's wisdom or the direction of mediators and coordinators who seemed to want little knowledge of your situation or your children's. There are writers on this site who have lived that hell.
When my ex sued me for custody of our teenage boys, five-years after divorce and without evidence, I was beyond an emotional mess. Thankfully, he didn't win custody, but he did establish co-parenting, which had just become law in our state, and something I thought (at that time) made sense. Ha.
Through it all, I am thankful for a few things that have kept me sane, protected me physically and helped me navigate this bumpy road. I can honestly say that despite the PTSD this created, I am emotionally strong, healthy and as my blog name states, thriving in crazy land.
Though there is no one size fits all, here are a few tips I can share that might serve you well if you are forced to co-parent with your abuser:
First, start telling others about the abuse. Silence is borne out of shame for most victims, not fear. However, abusers capitalize on it as if you are afraid to tell and that can become a button used to abuse. Defuse it. It took me years to get past the shame of abuse, but when I did, I began to tell others what was happening. Today, I tell school officials, coaches, pastors, friends and family that domestic violence and abuse is part of the equation of our family, that there is a court order in place that dedicates much of my children's childhood and that my ex is unsafe for me. Your actions going forward will make a lot more sense when people know what is behind it.
Do whatever you have to employ excellent professional help. Too much is at stake to operate only with the advice of your friends, most who don't understand abuse. There is a science to this and you need someone who understands the formulas. Find a psychologist, an attorney, an accountant, a parenting-coordinator who have lots of experience with domestic abuse victims. Never assume that they all do. In fact, the majority don't.
Document everything, no matter how much work it takes. I have nine years of emails stored, printed out and put away. Photos, letters, cards. Keep everything that goes on between you and your ex. Document phone calls, drop off times, missed visitations, everything. You will need this documentation to protect you and your kids in the future and you will be so thankful that you did it.
Disengage from your ex. This is very difficult to do for a lot of reasons too many to list here. I understand this is not simple. Read more about this all over this site and the web. But, the more you care about your ex's opinions, actions, feelings, etc., the more power he has over you.
Create margin between you and your ex. Think of this like the shoulder on the side of the road. If something happens at high speeds and you swerve over the yellow line, that margin protects you from the disaster of an accident and gives you time to react safely. Margin in your relationship give you time to take in the abusive actions of your ex, feel it away from him, process it emotionally and react, if at all, in a healthy way.
Get to Acceptance that life is unfair and can be unsafe. There is a process to this and its called grieving. You need to grieve the loss of the world you wanted for yourself and your children. You can't just get to acceptance, you have to do the work of the process, best with a therapist. But the payoff is wonderful. Today, I'm sad that my children's childhood has been scarred by abuse, but I have mourned that and accept that no child has a perfect childhood. Since I've processed this as a loss, I have come out the other side and recognize the silver that lines every dark cloud. You can, too.
Similar to number 4, create "Limited Contact" with your ex. Psychologists advice victims of narcissists to use the "No Contact" method of therapy when breaking from an abuser. This means that you completely ignore all communication and never responding. Also, you stay away from your abuser, his hangouts, you de-friend him on Facebook, you break from mutual friends, don't utter his name and so on. No Contact is nearly impossible when the court orders you to co-parent and share a lot of your personal life. But, limited contact is very possible.
Get and stay emotionally healthy. This journey is draining and its a very long marathon. You need your emotional strength. So, stay in therapy, even if your finances are tight, find a way. Put energy into people who are giving you the same back. Victims are often co-dependents and we are reluctant to stop trying to make others happy or give up on people just because they don't give us what we need. But, you need people around you who really care about your well-being. Identify the people in your life who would run through fire to save you and pour your relationship energy into them. Love the rest, but don't spend your time "doing" for them. You need that energy for you and your children's survival.
Be the Mom you want to be and accept that you won't be perfect. When you fall off that pedestal, dust yourself off, go apologize to your kids, and try again. You are in a horrible storm, one that your ex is enjoying watching from his perch. You are going to make mistakes. Don't worry, we all do. But mistakes can be opportunities. You can learn from them and so can your children.
Read about toxic ex's, parenting with a toxic ex. There is a growing resource of information out there about this subject and much of it will help you. Education is the key to all of this. It is has kept me sane throughout crazy land.
Read about the laws regarding abuse. There is some abuse you will have to just ignore, but there is a growing list of abuses that are illegal. For example, it is illegal for someone to harass you through email and if you are a domestic violence survivor, the VAWA federal act identifies this as a form of terrorism against victims. Learn about all the boundaries in place and use them. Abusers often stop certain forms abuse when they know you will prosecute, sue or hold them accountable.
And remember, you are not crazy, this circumstance is. No one should advise you to build a healthy relationship with your abusive ex if they saw what you saw. But, they do it every day around this land and expect the ridiculous. OJ Simpson was awarded custody of his children after he was accused of killing their mother. Josh Powell killed his two babies on a supervised visitation while is wife was missing and presumed dead by his hand. They are injustices everywhere. As we have all heard before, life is not fair. But, don't let that stop you from having a good life and having the best life you can have with your children under these difficult circumstances.
FAQs about Domestic Abuse:
Why do victims of domestic abuse tolerate abusers?
Victims of domestic violence can take years to realize the ugly truth about their partners that they rarely change. This is why victims of domestic abuse tolerate their abusers. Besides, the abusers know how to control and manipulate their victims.
What does co-parenting with an abuser mean?
Co-parenting with an abuser means that the abuse victim and the abuser have been bound to interact with each other again. The victim would continue to suffer mental torture during co-parenting because abusers seldom change.
Why do courts insist on co-parenting with abusers?
The insistence of the courts on co-parenting with abusers stems from the concept that the children need both parents for their well being after divorce. Although many state laws dictate taking into consideration domestic abuse while ordering custody arrangements, the courts insist on co-parenting with abusers for the sake of the children.
Do abusers use co-parenting to harm survivors of abuse?
It's a documented fact that abusers continue to seek control over their victims and abuse them under the garb of co-parenting. Unfortunately, abusers use co-parenting as a tool to reel in their victims.
Is co-parenting with an abuser dangerous?
Co-parenting with an abuser is dangerous for the victim, who has tried to break free from their abuser through divorce. Co-parenting with an abuser can trigger Post Traumatic Stress Disorder in victims as they find themselves shell-shocked over this unholy reunion. Co-parenting with an abuser becomes a nightmare, especially when the abuser has children to be used as pawns against their victims.
Can I lose custody to an abuser?
You can lose custody of your children to your abuser. In many cases, abusers use their victims' legitimate reaction against them in a family court to show that they are being alienated from children. If they manage to prove that you will not cooperate with your abuser and will not be a good parent, you will likely lose custody to your abuser.
Are there laws against abuse?
There are laws against abuse and you would need to familiarize yourself with them to protect yourself. If survivors of abuse are harassed through emails, the VAWA federal act recognizes it as a form of terrorism against them.
Should I get professional help against abuse while co-parenting?
You should get professional help against abuse while co-parenting but you need to find the right kind of professional. If your psychologist, lawyer or parenting-coordinator doesn't have sufficient experience with cases of abuse, your situation will not change.