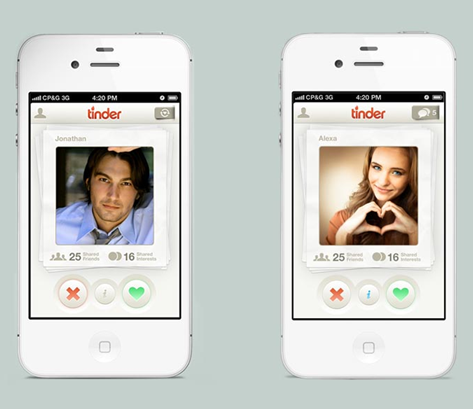 In iOS 2,731 apps come up when one searches "dating apps".  In my not so humble opinion, here are the 5 best dating apps for divorced moms.
1. OKC aka OK Cupid. I resisted the name because dating doesn't mean love but I guess that is the end result.  Caveat, I found my honey through this app.
OKC works like most of the apps, you complete a profile and upload a picture.  You also create an account, some dating apps let you link to Facebook, which makes the account process easier.
Next you view profiles and of course folks are viewing yours simultaneously.  If you aren't interested in the person whose profile you are viewing, simply swipe to the left.  Think Beyonce, "to the left, to the left, everything you own in a box to the left".
If you are interested, swipe to the right and you can send the person a message and start chatting in the app or exchange info to meet or text or talk, email, do social media, however you want to communicate.
I was on OKC for 6 days and all I did was swipe to the left before I found someone I wanted to speak to. I was about to leave the app and a friend who had used it recommended that I stay on for at least one week.
On day seven I swiped to the right and "met" 5 women, after chatting in the app, eliminated one, one became a Facebook friend, and we never met.  Another woman I texted and we tried unsuccessfully to meet and go for a hike but couldn't schedule.
I met my honey, we just celebrated our 4 month met anniversary.
You can state an age range, geographic location, gender, sexual orientation, interests, etc.
It's free but you can pay for extra services.
I know several couples who met there mates through OKC.
2. Tinder: Let's just say that this is a "hook-up" site without dating.  A little too raw for me, but if you are a divorced mom who wants to "hook-up" without dating, this is the site for you.
3.  POF aka Plenty of Fish: This site boosts 50,000 people join every day.  It comes from the notion that there are plenty of folks out there available for dating in the "fish tank", I mean dating pool.  I also noticed that most people sign up for multiple dating apps.
4.  eHarmony: You probably have seen the commercials for eHarmony.  There is an online site and an app.  They boost finding your mate if you complete the application.  If am lesbian and although all the other sites have same sex matches, eHarmony sends you to:
5. Compatible Partners: The same-sex partner site for eHarmony.  So if you are a ten percenter, reporters say that 10 percent of the population is lesbian or gay, this dating app is for you.
Caution with eHarmony and "Compatible Partners" if you are separated and not divorced and check that box, you will not be allowed to sign up for the services.
I preferred apps to online dating because you can check your messages at any time from your phone or other device without having to log into a computer.  There are of course others and almost all of the apps have a limited free program and charge for other services which they call premium.
As mentioned I was able to meet someone through the free service although I did have to wade through ads which is the other way these apps generate income.
Good luck and please let me know your experiences with these apps and let me know of others you have used and like.
Love, peace, compassion, and blessings.
FAQs about Dating For Single Moms:
What are some of the best dating apps?
Some of the best dating apps include Tinder, eHarmony, OKCupid, POF aka Plenty of Fish and Compatible Partners.
What is the best hookup site for divorced women?
If you are a divorced woman and looking for a hookup, Tinder is your best option. Many people say it is a hook-up site without dating. 
Does eHarmony boost your chances of finding your mate?
Yes, eHarmony does increase your chances of finding a mate, but you would have to fill up an application form for that.
Are dating apps better than online dating sites?
Dating apps are better than online dating sites because you can communicate through them on the go. Whether you are out or in transit, dating apps make it possible for you to send and receive messages instantly.