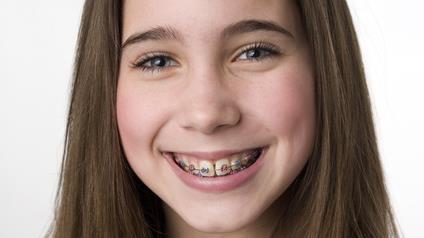 Under the law, when parents divorce or separate, both parents can be responsible for the cost of their child's dental care, including braces. As a result, very often, divorcing parents enter into a written agreement stating how much each will contribute, usually in the form of a percentage.
In addition, or in other cases, there may be a Court Order or Judgment of Divorce which states that Dad will pay a specific percentage of the cost of braces.  Unfortunately, all too often, many Dads don't pay their percentage, leaving Moms to scramble to get the funds, negotiate with the Orthodontist, or even stop taking their child for treatment all together.
Ultimately however, no matter what percentage Dad is required to pay to Mom, if only Mom has signed up the child for treatment, as a legal matter, only she is responsible for the cost of treatment to the Orthodontist, and she will have to later seek reimbursement from Dad. The Orthodontist has no legal obligation to uphold your Agreement or Court Order, nor any duty to get payment from your ex. Sadly as a result, the relationship between Mom and the Orthodontist may suffer, making what should be a wonderful experience for the child into a tense ordeal.
What can a mom do? What are her rights? How can she protect herself?
1. Moms, you must involve Dad in the process before you start! Do not think that just because your Agreement says he has to pay 50% that he will actually do so. There may be some other language that requires you to involve him which you may not even realize, but in any event, if you want to protect yourself, you must involve him as follows:
Tell him your child needs braces (Yes, even if you think he already "knows"). Send him an email, text or letter stating that he or she needs braces and an approximate time frame of when this will happen. Do not say, "Johnny needs braces and he's getting them tomorrow."
Tell him who the Orthodontist is and what the cost is.
Schedule an Appointment with him and if you cannot stand to be with him or if you have an Order of Protection, have him make his own appointment to see the Orthodontist. Explain the situation to your Orthodontist.
Provide any and all information that you receive as to payment and make sure that you are giving him timely notices of payments due.
2. Make sure that Dad signs the contract for the braces. As a legal matter Dad may owe you money for braces, but he will not owe the Orthodontist one cent if he does not have a contract with him.
3. Be clear that there is an actual legal obligation for Dad to pay and how much. Some Agreements may be poorly or vaguely drafted and not specify the words "braces" exactly or establish what percentage he has to pay. These things can be clarified or corrected but you must know what issue or problem you might have and you must know what your Agreement or Order specifically provides.
4. If Dad disagrees that your child needs braces, refuses to meet the Orthodontist or sign a contract then send him another email or letter documenting his disagreement or refusal and tell him you will take him to Court to enforce your right.
5. Take him to Court! If Dad is showing any resistance or not cooperating, you must not wait.  Do not make the mistake of hurrying to sign your child up with the Orthodontist, paying for everything (or expecting your Orthodontist to only accept your payment) and then taking him to Court in the end.
FAQs About Dental Work After Divorce:
Who pays for children's dental bills after divorce?
Both parents are responsible for paying children's dental bills, including for braces if he or she may need it,  states the law. Divorcing spouses can reach an agreement on who will pay how much when their children need dental care.
Can a court order parents to pay children's dental bills?
Either through an order or a Judgment of Divorce, a court can order a parent to pay for a specific percentage of children's dental bills. Despite court orders, many fathers refuse to pay for children's dental bills, making mothers borrow money, negotiate with dentists or stop getting dental treatment at all.
Can an orthodontist seek dental bills from my father?
An orthodontist cannot ask your father to pay for your dental bills if your mother has signed up for the dental treatment. It means your mother is legally bound to pay the dental bills even though the court has ordered your father to pay a specific percentage of the treatment. Your mother would have to ask your father to reimburse the court ordered percentage of the bill after paying the dentist.
How can my mom get my dad to pay my dental bills?
Your mom can get your dad to pay for the dental bills by first informing him about it. She needs to tell him before the treatment actually takes place and book him an appointment with the dentist so he gets to know what he might need to pay and when. 
Can my mom get my dental bill from my dad according to the agreement?
You mom should not assume that she would be able to get a certain percentage of your dental bills from your dad by simply asking him. She needs to get him involved in the process to make him aware that this is happening and this is what he would need to do. 
Should my dad sign an agreement with the orthodontist for my dental treatment?
If you want to make sure that your dad pays the orthodontist for your braces, you need to make sure he signs a contract with him. The court order requires your dad to pay you for your dental bills, which essentially means that your dad will not legally owe any money to the dentist if he doesn't sign the contract. 
Will a dental treatment agreement cover the cost of braces?
The dental agreement would cover the cost of the braces provided if it specifically says so. You will not be able to get money for braces if the dental agreement is poorly drafted, doesn't mention the word 'braces' or the specific percentage required by your father to pay for such treatment. If you have not been able to get the money for braces, you can always get the dental agreement amended. It's advisable to get it right in the first place.
What to do if dad doesn't agree to pay for my braces?
You will have to go to the court for the enforcement of the dental treatment agreement in case your dad refuses to pay for your braces. You would need to send him an email, bringing on record the agreement and his refusal first.
Should I wait for dad to pay for my dental agreement?
You should definitely take your dad to court if he refuses to pay for your dental agreement. Also, you should not hurry with making an appointment with the orthodontist for the treatment, paying him and then try to get the money your dad owes you for it. Be sure to get your dad to agree to pay for the treatment first.